About Me: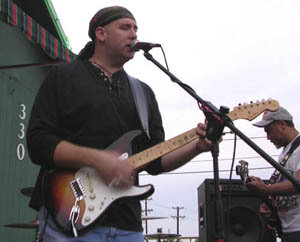 My first experience with electronics happened quite by accident in the mid-70s. My uncle got me a Radio Shack Electronics kit. The kit had various projects, like building crystal radios, demonstrating basic electronic theory etc. I loved it, and wouldn't stop experimenting with it for the longest time.

I started playing guitar in 1979, and that eventually led to me purchasing my first electric guitar in 1981. I started getting interested in amplifier repair back in 1983. I had a Gretsch Mini-Lead 50 that kept breaking down. I got tired of taking it to the shop and having to wait up to six-weeks to get it back. My dad had a friend who was an electrical engineer. He told me to take the amp apart, and then explained the different sections of the amp to me, and ALSO showed me how to troubleshoot it. I was hooked. I started working on my other broken music gear (pedals, other amps etc.) and other bandmates equipment as well.

When I got to college, I was able to keep all of my stuff going, and continued to repair other friends gear when it broke too. I kept doing this for years, while picking up various testing equipment and knowledge along the way. It really came in handy when I was in the Army overseas. I fixed all kinds of vintage amps for friends, and still kept my amps performing at peak levels. I also started restoring vintage radios for fun.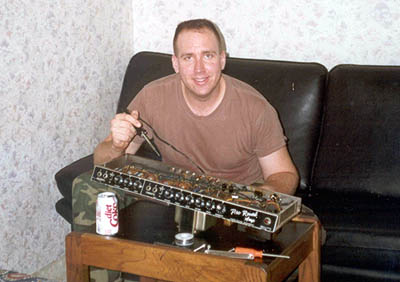 Repairing my '65 Pro Reverb while in Korea.

I always sought out the most knowledgeable amp guys and vintage radio restorers everywhere I went. I picked their brains mercilessly for information on how to repair these old beasts (I still do). All of them were very becoming and shared information freely. Learning from guys like Bill Blass, Michael Clark and ESPECIALLY Jon Bessent (Vintage Jon) from Tonecraft Amp Repair. Jon and Merlyn really got me thinking that I might eventually be able to turn this into a legitimate business at some point. It was a very sad time for me when he passed away in 2009.

Well, when I got to San Antonio in 2004, I knew it was the time to do it. I was finally in the position to start offering this type of service full-time. I still live for this stuff, even though recently other job commitments have caused me to move across the country a couple of times. Regardless of relocations, I look forward to helping you on that journey to reach that tone nirvana that we are all searching for!

Hope to see you out here soon!

- Big R


---
Back to Homepage
DISCLAIMER: This website is not affiliated with FMIC, Ampeg or Marshall.
---